Sweet Girl and I did LOTS of Valentine's day crafts this week!! Our house is covered in pink and red hearts!!
Marshmellow Heart
The marshmellow snowflakes were such a big hit, I thought we would do a marshmellow heart! We worked on counting to five with the marshmellows. I made her count out five and put them on before she could eat one! And again, she loved this craft!!
Heart sponge painting
I grabbed some sponges from the dollar store and cut them into heart shapes. We used red and pink paint and made a heart collage.
Salt dough heart ornaments
These were really fun to make. We made up a batch of salt dough, rolled it out like cookie dough and then used our heart shaped cookie cutters to cut out hearts of all different sizes. After they cooked and cooled, we painted them and added some sparkles!!
Aren't they cute???
Thumbprint Heart Magnets
We used the leftover salt dough to make thumbprint heart magnets. First we rolled out the dough and cut out our shapes, then we used Sweet Girl's thumb to make a heart impression. After they cooked and cooled we painted them and added a magnet to the back! These are little gifts for the grandmas in our life!!
We read all of our Valentine's day books many times this week. Some of our favorites are: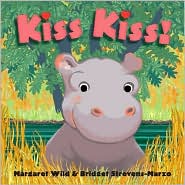 Kiss Kiss
, by Margaret Wild and Bridget Strevens-Marzo
(Sweet Girl's favorite!!)
And of course....
Oh...and here's our letter "B" craft.
B is for...Bumblebee
Is your house overflowing with pink and red hearts too???
xoxo